Thursday, April 14
th

, 2016 was a very busy day at Cristo Rey Community Center. With the help of many valued volunteers CRCC was able to distribute food to 135 families in need.

Community members came together to feed neighboring hungry families and individuals. In addition to food distribution, volunteers assisted in preparation of breakfast and lunch. Among the several CRCC helpers, were 20 students from two Michigan State University student organizations including the MSU College of Osteopathic Medicine and Alpha Phi Omega, a co-ed service fraternity. Student Kevin Calderon, of Alpha Phi Omega shared, "I enjoyed volunteering here because I could see my volunteering actually making a difference." He went on to say, "I saw people walk up and get their box of food and I was proud to have contributed to that."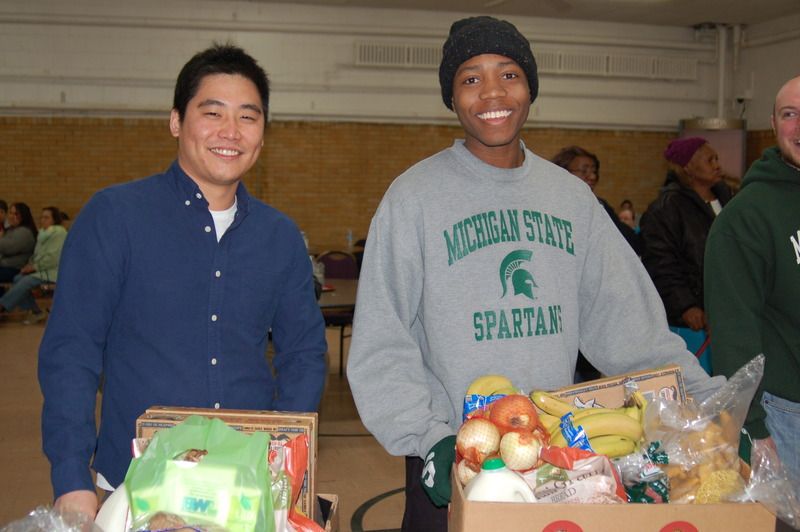 Volunteers truly make a difference in the impact that CRCC can have in preventing hunger in the Lansing community. CRCC was able to serve 90 people breakfast, compared to the average 60 mouths fed Monday through Friday mornings. Not to mention, Direct Assistance Program Coordinator, Cindi Benavides, said they were "done in record time."
Coupled with the direct assistance to CRCC clients, were free energy kits, which included two LED light bulbs from the Board of Water and Light's Hometown Energy Savers program. Two BWL representatives also worked with clients to schedule free-at-home energy visits. Representatives plan to continue to visit CRCC every 3-4 months to further the reach of their Hometown Energy Savers program in Lansing.
Cristo Rey thanks Lansing Board of Water and Light, along with all of those who came to help our organization serve those who need it most.
For more information about how to get involved with CRCC, please visit our volunteer sign up page.